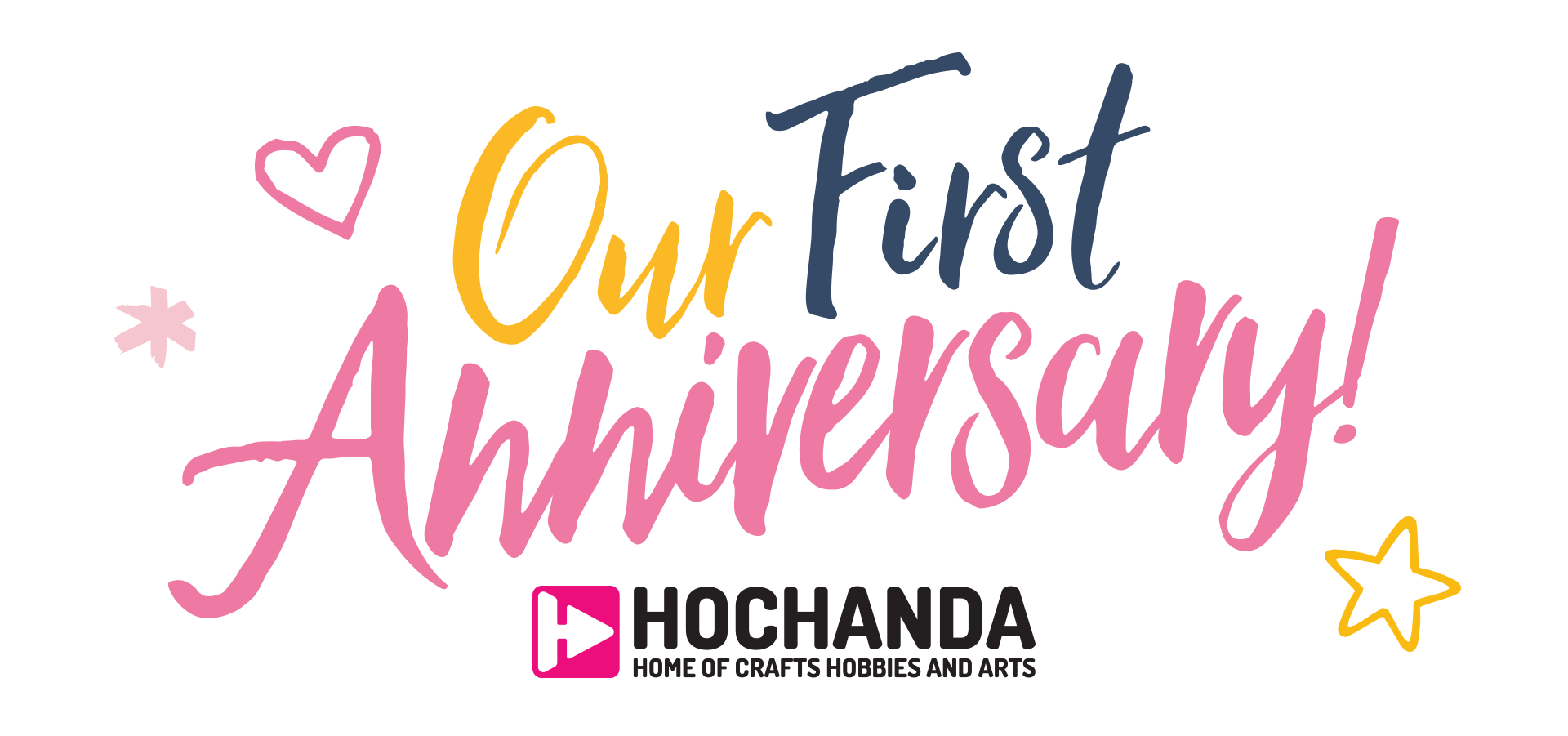 Join the party at 6pm on 5th April, only on Hochanda!
It's our one year anniversary on Hochanda! We're celebrating from the 5th to the 15th of April with exclusive product launches,
exciting competitions and fantastic giveaways. Join Jodie and Paula as they unveil a host of new products and show off some
amazing demonstrations to inspire your crafts! Read on to find out more about this brilliant anniversary event!


Tim Holtz Glass Media Mat
Measuring 14"x23" with a sleek black surface, the Tim Holtz Glass Media Mat is a fantastic multi-functional tool and creative workspace. The 12"x14" measuring grid features imperial and metric measurements, and the white 7.5"x11" mixing palette area (complete with a durable non-stick mat) is ideal for preparing wet mediums. This bundle also includes a Replacement Non-Stick Mat so you can keep on crafting!
Tim Holtz Travel Stamp Platform
Introducing the Tim Holtz Travel Stamp Platform - the perfect solution to stamping on the go. The innovative, portable surface allows for precision stamping with rubber and clear stamps. It features a fully magnetic 6.5"x6.5" base and dual thickness stamping plate. This bundle includes the Travel Stamp Platform Protective Sleeve to protect your Platform in transport!

Kaleidoscope Box
Introducing our next instalments in the popular Kaleidoscope Box range! Our Cutesy Blooms Square Kaleidoscope Box Die Set contains all the elements you need to create a beautiful square box lid or base. Use alongside our Kaleidoscope insert die sets to create a number of different height boxes!
Our Towering Trellis Kaleidoscope Box Insert Panel Set provides the largest sides to date. Combine with our Sewing Forever Octagon Lid Die Set to create our largest gift box yet! Create beautiful new projects with two brand new Insert Panel Die Sets! Each set contains a floral panel set and a geometric panel set as well as additional decorative tag dies. Use alongside our Kaleidoscope Lid & Base Die Sets to create a number of different shaped boxes!
Octagon & Hexagon Layering Dies
Two beautiful large Layering Die Sets - each set features half cuts for creating flip cards. Additionally, each is designed to perfectly fit the corresponding Kaleidoscope Hexagon and Octagon box lids - bringing yet more versatility to our popular Kaleidoscope range!

Wonderfall Die Sets
Effortlessly create beautiful and intricate waterfall cards with our Wonderfall Die Sets! Decorate with gorgeous Cascading Hearts or stunning Bouquets & Banners to make a show-stopping card perfect for any occasion!

Aperture Die & Stamp Sets
Introducing the fantastic Floral Aperture range - create beautiful base card apertures with our brand new floral range of die & stamps! Choose from three gorgeous die designs and decorate with the matching stamp to complete the look!

Diamond Hybrid Ink Pads
Each set of these petite diamond pads contain three beautiful colours which make them ideal for stamping and layering. The high quality felt pad contains highly pigmented colours, ensuring you have a perfect image every time! Combine them with the brand new Miniature Florals and Miniature Mandalas stamps to create some fantastic designs!

Glitter Accents
Glitter Accents enable you to create a three-dimensional glitter effect on any project. These shimmering adhesives are perfect for home decor, papercraft and mixed media projects. As an alternative to Glitter Drops, the Accents allow you to decorate with a textured finish instead of a self-levelling dome.
Glimmer Paste
The colours of Nuvo Glimmer Paste can provide unique variety to your work - use in combination with any stencil to create dimensional strip designs or bring texture and sparkle to larger areas and projects. The high concentration of glitter adds a vibrant shimmer to whatever you are creating!

Pure Sheen Confetti, Glitter & Sequins
The Pure Sheen Sequin, Confetti and Glitter bottles are perfect for special occasions and creative projects. Featuring 12 new varieties, the colours correlate with our trends for 2018 which allow you to co-ordinate your creations across the range!

Mica Mist
Nuvo Mica Mist sprays are ideal for adding that shimmering sparkle to your creative project. The uniquely engineered solution contains mica powder and a coloured pigment which adheres to the surface, allowing you to add multiple layers. Spray directly onto light or dark card, through a stencil or over an existing embellishment to produce a beautiful lustre effect. You can also remove the nozzle and paint the solution directly onto a porous surface, creating a more vivid sheen!
Shimmer Powder
Nuvo Shimmer Powders are a unique combination of shimmering mica powder and a vibrant dry pigment. Lightly tap the powder over your desired surface, use the Light Mist Spray Bottle to add water and then watch the colour infuse. You can also mix the powder straight with water and brush to produce a sparkling metallic water based paint. Create beautiful backgrounds, unique textures and marble effects with dazzling colour combinations.


We have some exciting products to give away as the perfect thank you for helping us to celebrate our First Anniversary Week!
A beautiful Tag Die Set, gorgeous Nuvo Pure Sheen Glitters and a selection of fantastic Craft Perfect paper are available to you
with eligible purchases during corresponding shows throughout our Anniversary celebration!*
Receive a brilliantly versatile 10 sheet selection of some of our favourite Craft Perfect card, giving you the perfect start to your next project!
Decorate your gifts with three brand new Tag Die Sets - a gorgeous butterfly, a swirling rose or a unique stitched design! Each set contains two dies in the pack.
Introducing our fantastic Pure Sheen Glitter Pots in a range of brand new colours - don't miss the chance to get Alaskan Blue and Ivory Sands with your purchase!
*Terms and conditions apply - A Bonus Gift will automatically be applied to specific items featured and purchased during a Tonic Studios live show. Should the order be returned, the Bonus Gift will also need to be returned.